Crosby Fund For Haitian Education
We treated our university students to dinner at the Plaza in Port-au-Prince in October 2009.
Rebuilding Our University Program Fall  2010
At the time of the earthquake in January, we had 24 university students studying at 8 of the 15 universities in Port-au-Prince.  After the earthquake, 7 of those universities (11 overall) collapsed, leaving the university program in chaos.  Our first concern was the safety of our 24 students.  We were saddened to have lost one student, Alphonse Antonio in a collapsed university.  Five students suffered head and leg injuries, but have now recovered.   Our organization paid for the medical expenses and gave each student an allowance to replace clothing and personal items lost in the earthquake. The H.J. Promise Foundation offered a gift to replace 10 of the ruined laptops, so essential for university study.
Our second concern was to transfer our students to functioning universities that will enable them to finish their degrees, some students were in the final year of their program.  We hired Jean Baptiste Vaudy, who has a degree in public relations and lives in Port-au-Prince, to work with each student to find the best solution for their academic needs.   Together with Vaudy, the Haitian Advisory Board, and the students, we worked through the spring and summer trying to place each student. Vaudy met with the administrators of each university to see whether or not they had plans for rebuilding and to establish their goals for the immediate future. Some universities are not going to rebuild because of lack of funds.  Other universities immediately set up large tents with cubicles within the tents for classes. Some established these temporary universities in remote areas difficult for students to travel to and from. We visited some of these tent classrooms in May and discovered that some were much better than others.  The set-up that worked allowed classes to function without noise interference from other classes.  Quisqueya University, an excellent Haitian university, collapsed, but has set up a very good tent classroom system and is actively rebuilding.  Six of our students will be transferred to this university.   Fortunately, one of the best universities in Haiti, University of Notre Dame, had very little damage, and we are transferring several students to this school as well.  Both of these universities have substantially increased their tuition costs, which will put pressure on our budget.  We explored the possibility of sending some students to the state university, UTESA, in the Dominican Republic.  The fees to transfer, passports, visas and loss of academic credits amounted to too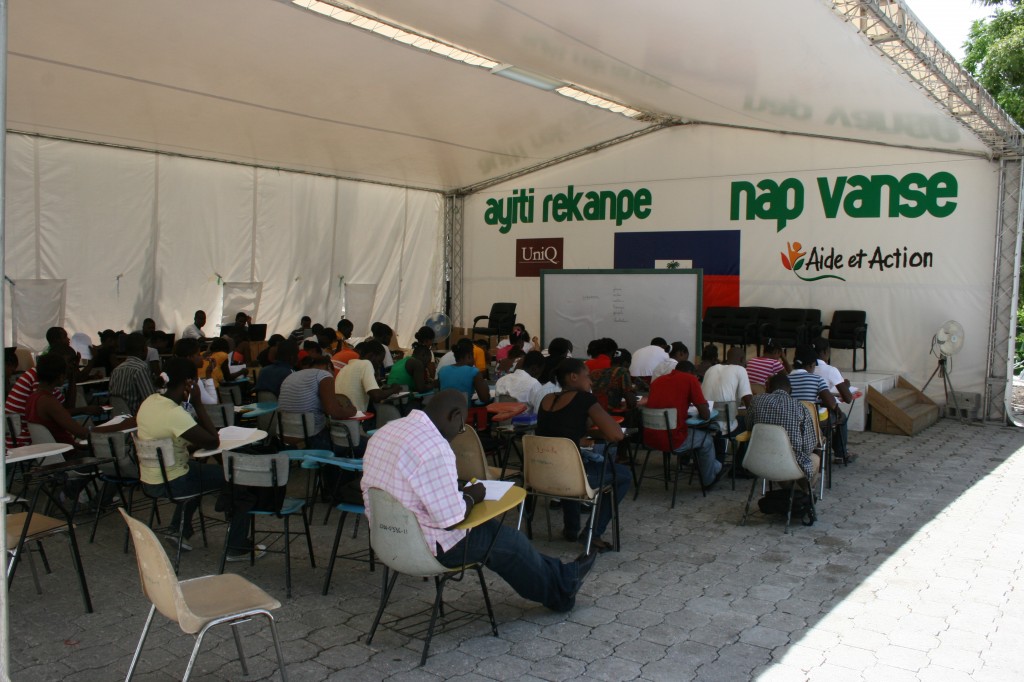 Students studying at Quisqueya University under the tent while the University rebuilds.
many hurdles to overcome.  In the end, we transferred only two students to the Dominican Republic.  We are happy to report that as of this writing, all of our university students have been successfully transferred and will resume their education this fall.
Our university scholarship program provides 100% of the tuition, fees, and books ($2,500).  Last year, we provided a $500 stipend toward housing, leaving food and transportation costs for the students to pay on their own.  We found this to be very problematic for some students, who simply did not have the means to eat.  This year we are happy to announce that Sue and Don Joffray have donated a gift that will provide food subsidy for our students.  As Sue said, "It is hard to study when you are starving."  Thank you Sue and Don for your generosity!  Our students have heard this news and are thrilled to have such kind support.
As you can imagine, the housing situation in Port-au-Prince has become much more problematic.  Students struggle to find a place to live and a room that they can afford.  Prior to the earthquake, a rented room in someone's house with bathroom privileges was about $300-$500 a year.  Now that same room is $750 -$1000 or more.  Our future goal is to build a dormitory for our students.  We have land that is available for that purpose.  A centrally located dorm would provide decent, safe housing so that our students could focus on their studies.  The students could share in food expenses and transportation fees would be reduced as well.
| | |
| --- | --- |
| | |
| Ted and Becky Crosby with Carl Freidrich Joseph | Antonio Alphonse with Vaudy Jean Baptiste prior to Earthquake |
Annual University Student Expenses
Tuition and Fees
$1800 – $2000
Books
$500 – $750
Transportation
$250 – $300
Housing
$750 -$1000
Food
$900 -$ 1500
($3 to $5 a day for 10 months)
Total  Range
$4,200 to $5,500
Sponsorship of a University Student
We try to find sponsorship for each of our university students — donors who are willing to provide $2500 or more a year to pay for the tuition and books for one student.  Donors may wish to provide  transportation, housing and food as well.  We have 9 students who need sponsorship.  If you are interested in sponsoring a university student, please contact us, and we would be happy to tell you more  about the program.  We give thanks to our special donors for their generous gift of university scholarships.
Laptops needed
We have 8 university students in need of laptops.  If you have an unwanted laptop and you would like to donate it as a tax deductible gift, please let us know.  Call Ted Crosby (860-575-5539), and he will  be more than happy to hear from you.
 Technical School Program
Last year, we initiated a technical school program designed for students who completed high school and passed their Rheto exam (12th grade), but did not pass the Philo exam (a 13th year), which is  required for university study.  A Rheto certificate entitles students to enter many technical school programs.  This year we offered 6 technical school scholarships in auto mechanics, air-  conditioning/refrigeration, physical therapy technicians, farming/re-forestation and tailoring.  With the help of Sue and Don Joffray, we plan to increase this program to provide more young people the  possibility of learning a trade that will provide employment. Generally the technical school program is one to two years and costs considerably less than university tuitions.  There are a wide variety of  small schools outside of Port-au-Prince.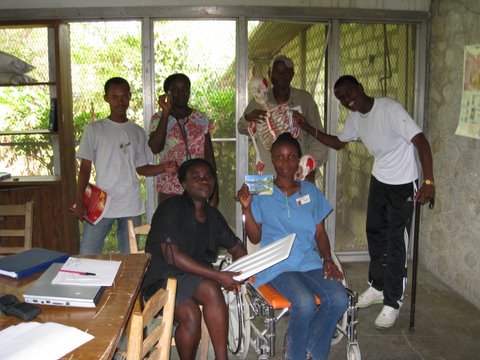 Two of our students attend the physical therapy technician program offered at Hopital Albert Schweitzer.
High School Program
This year we are offering 120 students scholarships in our high school program.  These students attend schools that are within a 4 mile range of their house.  Most students walk or take a 'tap-tap' to school.  The schools in the country are quite primitive in structure and sparsely furnished.  Most have handmade benches for seating with a higher bench structure that is used as a table.  Schools have a blackboard, but few have electricity and plumbing.  We are astonished that students are able to learn under these crowded and sparse conditions, let alone excel.  Over the years, we have noticed that students generally struggle with math, and their low math scores prevent them from passing the Rheto and Philo state examinations.  We have started an after school math tutoring program, and we are beginning to see some results from that effort.  We are in hopes that our university students who excel in math assist in this tutoring program during their winter and summer breaks as a way of 'giving back' to the program and help the younger members in their community.
Current Operations
The Crosby Fund for Haitian Education is managed by a volunteer Board of Trustees in Connecticut who oversee the operations in Haiti. A volunteer Board of Advisors in Haiti assist with the student selection and oversee all aspects of the operation in Haiti.  The Chairman of the Advisory Board serves ex-officio on the Board of Trustees and reports on a regular basis to Rebecca Crosby who serves as the Executive Director of the program.  The Crosbys make frequent trips to Haiti to oversee the operations in the office in Deschapelles and the university program in Port-au-Prince.
A student is selected for a scholarship based on an application, a letter of recommendation, a recent report card, an essay, a personal interview and, finally, an entrance exam.  The Board of Advisors in Haiti reviews the submitted information and recommends students for the program.  These recommendations are brought before the Board of Trustees, who vote to approve or disapprove the selections. Students selected in the program must remain in good academic standing throughout the school year in order to receive scholarship renewals for the following year. Students may continue in the program until they receive a bachelor's degree or post-secondary certificate.  Regular report card reviews, tutoring opportunities, and communication with the Program Administrator assures this standard.  Students must also remain in good standing in their communities in order to continue to receive aid.  CFHE students are encouraged to get involved in their community through volunteerism in much needed projects.  Students volunteer in the Crosby office on a regular basis.
At the secondary school level, CFHE provides full tuition support, purchases books and required uniforms.  At the university level, CFHE provides full tuition and registration fees, and gives a book, housing and transportation allowance.  Additional living expenses are the responsibility of the student (some find this very difficult).  CFHE has an emergency fund to provide aid for medical and hunger assistance.  CFHE makes every effort to provide laptop computers for those university students who need them for study.
CFHE employs six staff members working in Haiti.  Five work in Deschapelles with the secondary education and technical school programs. They work with the students, parents, principals, teachers, and the Advisory Board, paying tuition, purchasing books, and uniforms.   We employ one staff member who works in Port-au- Prince with the university students and serves as a liaison between the student and the university.
Currently there are 120 students receiving full scholarships for secondary education.  These students range in age from 14 to 28 years and attend grades 7 through Philo, which is a required 13th year for those wishing to go on to post-secondary study.  There are 25 students receiving university scholarships and 7 students receiving support to attend post-secondary technical schools.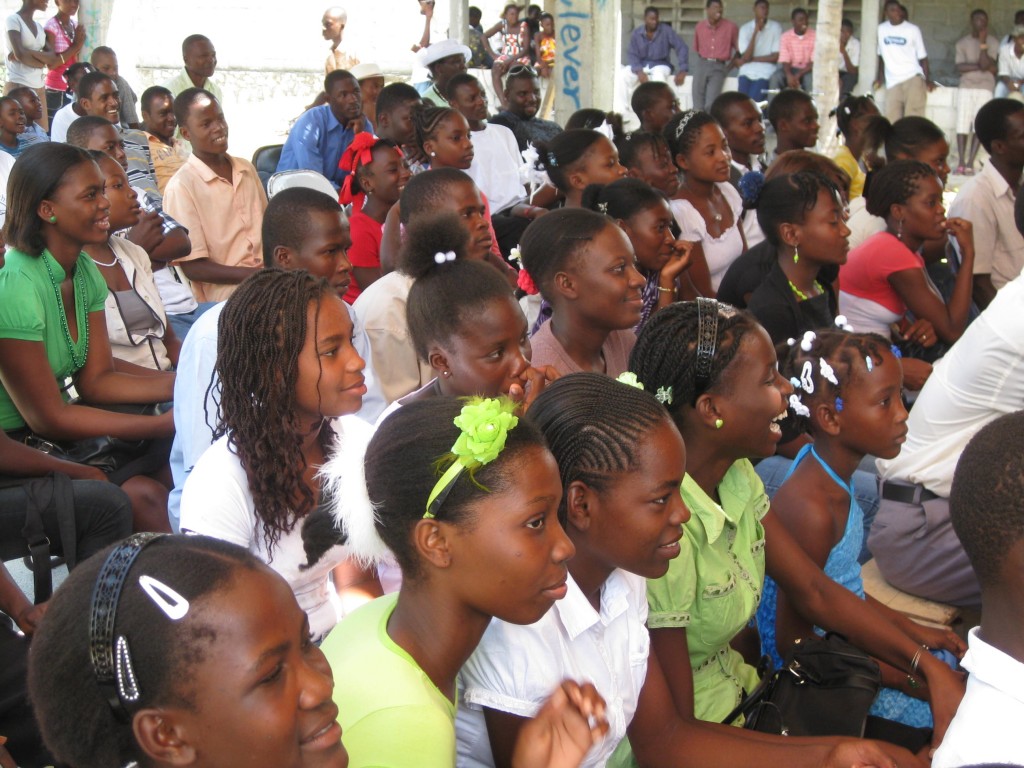 Students enjoy a festive afternoon as we celebrate the fifth anniversary of our program  — October 2009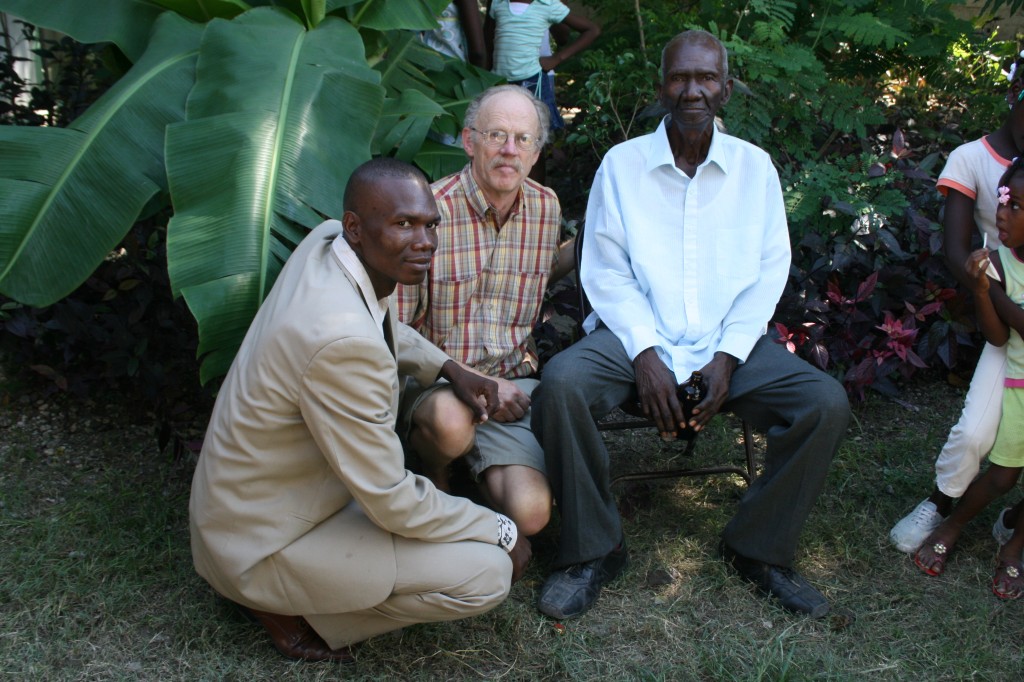 Fednor Sidort with his father and Ted