Monthly Archives:
December 2011
Published
December 6, 2011
|
By
TED
University Program: Success In The Midst of Chaos
Last year at this time we were in the process of getting our twenty-six university students back to school.  This was a monumental task, because eleven of the fifteen universities in Haiti had collapsed or were structurally damaged.  This affected twenty-four of our students' programs of study.  We are pleased to report that as of January 2011, all of our students are back to school.  Some were transferred to different universities and some have stayed at the same university but must endure makeshift classrooms or large tent structures while the university rebuilds.  Vaudy Jean Baptiste, our new Program Director, deserves a great deal of credit for the re-placement of our students.
University tuition has increased and so have student housing costs.  Since the earthquake housing in Port-au-Prince is in demand, making it difficult for students.  Some of our students were living in unsafe tent cities, and others were living in the outskirts of Port-au-Prince, making a two–hour to four-hour daily commute to and from their university.  Vaudy has assisted in finding better rooms, but we are still faced with the challenge of boarding our university students.  The average room costs about $1,000 a year, more than double since the earthquake.
Thanks to a wonderful gift received last year, we are able to continue to provide our students with support for their food expenses for the next few years.  We are so grateful for this support and have noticed during our last visit that our students are looking healthier!  Living in Port-au-Prince, even before the earthquake, is extremely challenging. All of our university students are from very poor families in the Artibonite Valley, and their families cannot support them in the city.  Students arriving in the city for the first time are overwhelmed with the challenges of living.  Understanding this difficulty, our older students have created a network of "Crosby Students" who meet periodically and serve as a support group for each other.  With all of these challenges, we are happy to report that three of our university students graduated this past spring: Hélène Clervius in medicine, Delicier Dieuseul, in medicine, and Dianie Ezekiel in secretary/business studies.
Dianie Ezekiel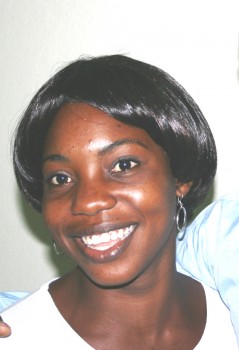 Dianie entered the Crosby Fund program in 2005 at the age of 16 as a junior in high school.  She came from a farming family of seven and was not able to complete her high school education.  Through the Crosby Fund, she completed her Philo year in 2008 and entered the Business Institute of the West Indies in Port-au-Prince for a two year program to become a business secretary.  The earthquake disrupted her studies for one year, but we are pleased to report that she graduated in June and is looking for a company where she can serve as an intern.  Dianie's scholarship was provided through support from Becky and Ted Crosby.
Hélène Clervius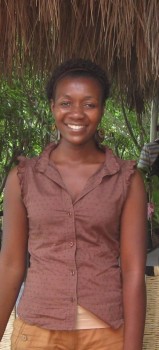 Hélène has been in the Crosby Fund program since the beginning in 2004.  She was 21 years old with only one year left to complete high school. We knew from the beginning that Hélène was a very gifted student with a strong determination to be successful in her life.  She was born in the mountains above Deschapelles, where education is very limited.  At a young age, she moved to Deschapelles and lived with relatives so she could go to school, but soon she had no possibility to complete her education.  Through the Crosby Fund, Hélène graduated from high school and went on to Quisqueya University where she majored in medicine.  During the earthquake, Hélène used her medical skills to assist in emergency care to people living around the university.  Quisqueya University collapsed and her final year was a difficult one.  Yet in the midst of this trauma, she graduated at the top of her class and was awarded a scholarship to study neurology over the summer at Hôpital Nord in Amien, Paris.  She then visited another hospital in Switzerland for two weeks.  She has now returned to Haiti to begin her one -year internship at the state hospital, Hôpital Justinien, in Cap Haitian.  The Crosby Fund will assist her with her room and board and medical supplies.  Hélène hopes to continue to study neurology after her internship. There is no program in Haiti that offers this specialty, and she is looking for a post- graduate program in the United States.  Hélène's scholarship was provided through a gift from the late Alice Powers.
Delicier Dieuseul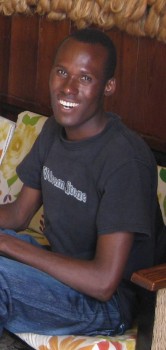 Like Hélène, Delicier has been in the Crosby program since 2004.  His mother was the sole provider for 4 children, and she did not earn enough money from her little grocery stand to pay for his tuition.  He entered our program at the age of 22, needing only to complete his Philo year of high school (the 13th year).  He had the highest grade point average of all of our students and was admitted into the medical program at the University of Notre Dame in Port-au-Prince.  We interviewed Delicier several years ago to better understand the difficulties of some of our students living in Port-au-Prince. He talked about the challenges of his inadequate secondary education, and how the students from the city are better educated and equipped to study than those from the country.  Unlike our students from the country, the city students have a family network within the city and generally a place to stay.  For the first two years he really struggled to keep up with his studies, and there was no tutoring help, so he worked even harder, studying day and night sometimes by flashlight.  Delicier said that after three years there was no difference between him and the students who were raised in the city. He also shared with us the challenges of living in the city and the long and very frustrating commute to school.  Delicier will join Hélène for a one-year internship at the state hospital, Hôpital Justinien, in Cap Haitian. Delicier's scholarship was provided through support from John and Heidi Niblack.
Sponsoring a University Student
We try to find sponsorship for each of our university students – donors
who are willing to provide $2,500 or more a year to pay for the tuition
and books for one student.  Donors may wish to provide transportation,
housing and food as well.  We have 9 students who need a sponsor.
If you are interested in sponsoring a student, please contact us, and we
would be happy to tell you more about the program, and help you select
the student.  We give thanks to all of our special donors for their generous
support of our university program.
Annual University Student Expenses
Tuition and Fees
$1800-$2000
Books
$500-$750
Transportation
$250-$300
Housing
$750-$1000
Food
$900-$1500
($3 to $5 a day for 10 months)
 Total Range
$4200 to $5,500
Laptops Needed
We are always in need of laptops for our university students.  If you have
a laptop with Windows 7 already installed and 1 gigabyte of memory we
would very much appreciate this gift. If you are interested in purchasing a
laptop for a student, we can generally buy them for under $400!
Technical School Program
Our technical program was created for students who completed high school and passed their Rheto exam (12th grade), but did not pass the Philo exam (a 13th year program required for university study).  This year we offered scholarships to 11 students, and 2 graduated from our program: Verna Cledomin and Ednige Vameus.  Both Verna and Ednige studied to be physical therapy technicians at the Hôpital Albert Schweitzer in Deschapelles.  Since graduating, the hospital has hired Verna and Ednige to work in their outlying dispensaries.  The technical program offers practical job skills for young people to better enable them for employment. We have 23 former Crosby students on a waiting list in hopes of having the opportunity to continue their education in our technical school program. This fall, we will select 8 of the 23 students for this program.  Generally a technical school scholarship is in the range of $500 a year and most programs are one to two years in length.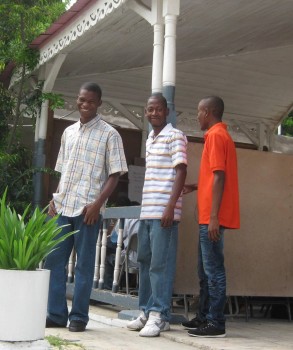 New Agronomy Students
Secondary Program   (grades 7 – 12)
Our secondary program is the largest program in our organization with 120 students.  These students all live within a twenty mile radius of Deschapelles, where our office is located in the Artibonite Valley.  These 120 students attend 28 different high schools within a 4 mile radius from their house.  The schools in the country are very primitive in structure and the class rooms are dark and crowded.  Many schools do not have electricity or plumbing.  These conditions make it very challenging for students to excel, especially when you consider the lack of food and water and the extreme heat (generally over 90 degrees a day).  We require that all students maintain a 60 average to stay in the program.  We offer a tutoring program to help students who fall behind.  Since the earthquake, the classrooms have become more crowded due to the migration of families from Port-au-Prince.  Tuition has risen in some schools over 30% due to the economic crisis since the earthquake and the challenge of finding good teachers to work in the school systems.  The Crosby Fund provides full tuition support, books and a uniform for each student.  The average secondary scholarship is in the range of $325 a year ($200 for tuition, $75 for books, and $50 for a uniform).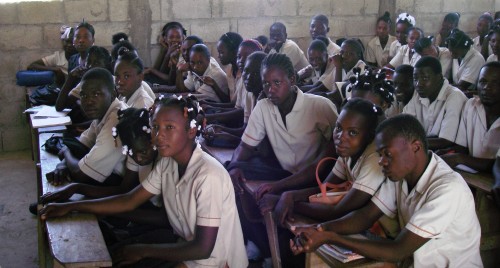 Old Lyme Youth Helping the Youth of Haiti
Andrew Sherer, a senior at Xavier High School, for his senior service requirement, has volunteered to create Haitian geographic educational materials to be distributed through the Crosby Fund.  His goal is to help provide Haitian students with laminated maps and graphs that focus specifically on Haiti.  In November 2011, Andrew will take a trip to Haiti to talk with school administrators about his project. Through the Crosby Fund, Andrew hopes to coordinate with Haitian teachers and students to tailor the materials to their specific needs.  When the materials are completed, Andrew plans to produce laminated copies needed and distribute them to Haitian schools through the Crosby Fund.
 Our New Program Director
In July 2011, we promoted Vaudy Jean Baptiste to the new position of Program Director to oversee and direct all of the Crosby Fund programs in Haiti: the secondary and technical programs in the Artibonite Valley and the university program in Port-au-Prince.  Prior to this appointment, Vaudy was responsible for the university program.  Melet DeRose will continue to be the Program Administrator of the secondary and technical program under Vaudy's direction.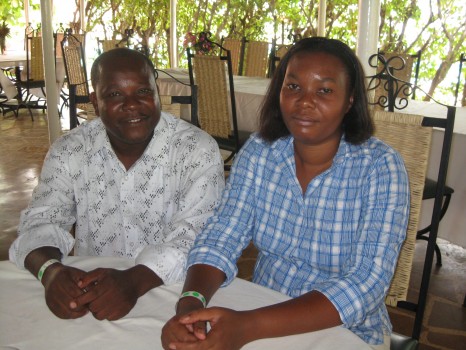 Vaudy and his wife Zulta in Port au Prince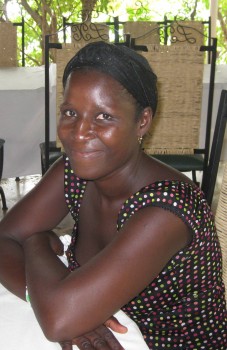 Kettelie Petit Loute Jules, Secretary

Annual Budget for 2012
Our annual budget this year is $175,000.    There are no paid salaries in the United States, and expenditures in the U.S. represent only 2% of the budget and are funded privately.  100% of any donation goes directly to the educational programs in Haiti.  The Crosby Fund for Haitian Education is a 501 (c) 3 non-profit organization.  All contributions are fully tax deductible to the extent provided by law.