Crosby Fund for Haitian Education
 Fall 2013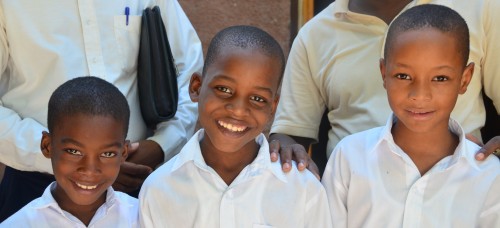 Three of our new primary students from LaChapelle
Primary Program Update (K- Sixth)                                                   
Our first year of offering primary school scholarships was a great success! Through a generous five year grant, we are able to support 167 full scholarships for children in first to sixth grade. These children are from different regions covering a 20 mile radius from our office in Deschapelles in the Artibonite Valley in Haiti.  We are happy to report that we had a 95% success rate. These students will continue in our program and advance to the next grade.  Kettelie Petite-Loutes Jules, the primary program's administrator, will evaluate the remaining 5% to see where we might help these children improve their grades.  There are many reasons why students fail, and sometimes it is a matter of learning disabilities, or stressful living conditions, illnesses, and many times it is hunger.  When we visited schools last fall, we observed that several primary schools were serving a meal as part of their school day.  These meals are provided by a UNICEF Food Program.  Our employees tell us that only about 10% of the 34 primary schools that our students attend serve free meals.  We are in hopes that more schools will be able to provide this nourishment for the children.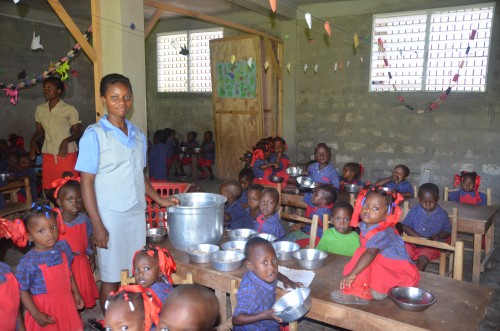 The school day for all grades K-Philo (13th year) begins at 7 am.  Kindergarten through second grade children finish the school day by 12 noon, but the older children continue until 1 pm, leaving before the sun is the hottest.  There is a wide variation in the 34 school facilities and the quality of  each program.  We are making every effort to place our children in better schools, but sometimes there are no quality schools close to where they live.  We have a long way to go in improving education in this area and helping children achieve, but we began this year, and it was a good start!
Primary School in LaChapelle that serves a morning meal
 Flanders Elementary School in East Lyme Donates School Supplies to Primary Program
Last spring the Flanders Elementary School in East Lyme, Connecticut, collected school supplies in support of our primary program.  This came about after Kettelie Petit-Loute Jules, our primary program administrator, visited several of their classes as part of their cultural awareness program.  When the students and teachers saw pictures of schools in Haiti, with no school supplies other than a chalk board and chalk, the students wanted to help.  Last May, we received boxes and boxes of colorful, educational supplies that we are now delivering to some of the schools.  Thank you Flanders!!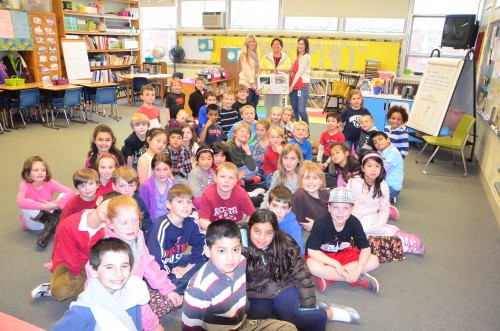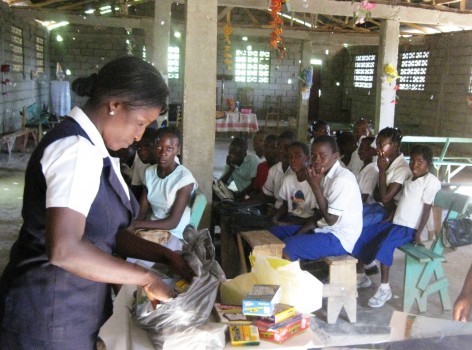 Children of Flanders School collected school supplies                                                                                                        Kettelie passing out the supplies                       
Secondary Program Update   (Grades 7 – Philo)
We began in 2004 with only 32 secondary students receiving scholarships.  Today we have 122 students in this program.  15 students passed their Philo exams this year. This success allows them the privilege of acceptance in one of the universities in Port-au-Prince.  We will offer 8 new university scholarships this year, and the remaining 7 will have to wait until next year to enter the university due to limitations in our budget.  We have never had as many successful Philo students as we have had this year!  This is great, but it causes a dilemma because it is the first time that we have had a university program waiting list. Please consider supporting a university scholarship. This program  is the most challenging, yet critical for the success of our students' future careers.   
Meet some of our high school graduates now attending  the university programs:        
Miramene Ulysse  — Agronomy         Aristilde Guerrens – Agronomy     Donald St. Philippe – Management
Technical School Update
Our technical scholarship program was initiated four years ago to offer opportunities for students who were not successful in the Rheto (12th grade) or Philo (13th year) state exams (required for university study).  This year we offered 17 technical school scholarships and 6 of these students will graduate in October.  The technical scholarships offer students the opportunity to learn practical job skills for future employment.  The scholarships cover a variety of studies from construction, mechanics, medical technicians, computer science and environmental studies.  We will receive 8 new students this year in the program. Currently we have 22 students on a scholarship waiting list.  Generally a technical school scholarship is in the range of $350 -$500 a year and most programs are two years in length.  We hope you will consider supporting one of these students.                                                         
                       Sidort Vernet,   mechanics                Ecole Professionelle de Desarmes – students practice their skills           Macius Richardson – environment
University Program Update
This year 5 of our 29 university students graduated with bachelor's degrees. Fednor Sidort in Administration, Guerlande Telmy in Accounting, Pierre Eustache Noel in Management, Emmanuelson Saturne in Computer Science, and Ducasse Alphonse in Education.  Four of these students will spend the fall in a mandatory internship program that will help with their job search.  Since we started our university program in 2006, 17 have graduated with bachelors' degrees. Of the 17 graduates, 6 are employed, 6 are in internship program, and 5 are searching for work.  We are in hopes that all will be employed in the near future. 
Our 30 university students this year are attending 10 different universities in Port-au-Prince. Haitian universities do not offer a liberal arts degree; but each university specializes in particular areas of study.  Students must select a specific program of study prior to deciding on the university.  Vaudy Jean Baptiste, our Program Director, helps with this process. The most popular majors are agronomy, civil engineering, management/business, accounting, computer science, nursing, and medicine. Most of the programs are five years long, with the exception of medicine which can be seven years. We offer each student a living expense stipend to help with housing, food and books.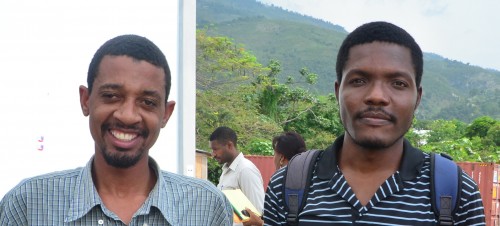 Pierre Hervey, graduated and now employed at Univ. Quisqueya – Inozile Jean Wisguen student at Univ. Quisqueya in Environmental studies
Jean Junior Mendel Mesidor, age 27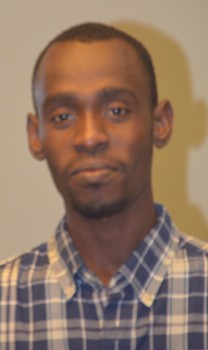 In his own words……It is with pride that I write about the Crosby Program today.  Thanks to this organization, I finally realized    the big dream of my life.  I entered the Crosby Program in October of 2005.  They paid for my classical studies (high school), and now I am finished with my university studies.  I studied business administration at the Université Notre Dame d'Haiti, and I have a degree in education at the Formation Initiale Acceleree at the Ministry of National Education.  In April 2013, I was offered an internship at NATCOM, SA (the newest phone carrier in Haiti).  After three months, the Director of the company offered me a contract of employment in the marketing staff.  This is good news for me, because in Haiti work is very difficult to find.  Now I am responsible to prepare the monthly marketing plan for VAS (services that allow subscribers to stay connected). I am also the producer of Bonquiz service Natcom.  I thank God and the members of the Crosby Fund.  I am ready to participate in all projects of the Crosby Fund.  God Bless You!
Sponsoring a Student
100 % of your support goes directly to Haiti in support of scholarships.  At the university and technical school level, we make an effort to match your support with a particular student, and if you are are interested, we will send you a picture and the name of your student. Please contact us, and we would be happy to tell you more about the program and help you select a student.  We offer our deepest gratitude to all of our generous donors who support our students.  Because of your generosity, 332 students are going to school. 
Annual University Student Expenses
Tuition and Fees
$1000-$1850
Books
$500
Housing and Food
$750-$1000
Total Range
$2250 to $3350
——
Technical Student Expenses
Tuition and Fees
$350 – $500
Annual Secondary Student Expenses
Tuition and Fees
$200-$300
Books
$65
Uniforms
$50
Total Range
$315 -415
———
Primary Student Expenses
Tuition and Fees
$75 -$100
Uniforms
$35
Books
$25
Total Range
$135-160
If you are interested in making a donation to support a student please make checks payable to Crosby Fund for Haitian Education and send it to 19 Binney Road, Old Lyme, CT 06371.  You may also make a gift on our website www.crosbyfund.org through PayPal®.  All gifts are fully tax-deductible and 100% of your gift goes directly to Haiti in support of our programs.
Annual Budget
  The Crosby Fund for Haitian Education is a 501 (c) 3 non-profit organization. Our annual budget this year is $250,000.  The pie charts show our income and expenditures. The salaries represent our Haitian employees.  There are no paid salaries in the United States, and expenditures in the U.S. represent only 3% of the budget and are funded privately. All contributions are fully tax deductible to the extent provided by law.