The Crosby Fund for Haitian Education
19 Binney Road, Old Lyme, CT 06371
www.crosbyfund.org — 860-434-8054

New university students at UNIQUA
Our Building Project                                 Fall 2013 / Winter 2014
Last November our organization was offered a piece of land by an elderly Haitian woman who deeply admires our work in education. Her hope was that someday this land would serve as a place for students of all ages to gather. Our Haitian Board of Advisors decided to purchase the land, and we are planning to build a house with guest bedrooms, a new office, and most importantly, a Center for Learning, with the primary goal of offering seminars for educators to improve the quality of teaching by introducing new methods involving modern concepts and techniques. We have learned that teacher development is an area of great need in Haiti. We will also be using the Center as a place for students to gather for tutoring and mentoring. Over the next few years, as we build this Center, we will be connecting with universities in the U.S. in the hopes of creating opportunities for graduate students to offer programs as interns. This exchange will be mutually beneficial for the graduate students as they gain great experience working in a developing country and for the Haitian teachers, as they learn new approaches to teaching. We will also be looking for retired teachers and educators, especially those who speak French, who might be interested in sharing their knowledge with teachers and students. The Center will serve the community as well by offering adult education and a place that offers activities for children who cannot go to school because of lack of funding. We also hope that the Center will be used to address environmental issues, family planning, and support the local artists and so much more. Stay tuned for news on this exciting project!
Primary Program Update (K-6)
This past year was our second year offering primary school scholarships to 167 students. We are happy to report that 19 out of the 22 sixth graders passed the state exams and have now entered our secondary program at the 7th grade level. 135 students passed and advanced a grade, and 11 were not successful in their grade and will repeat. W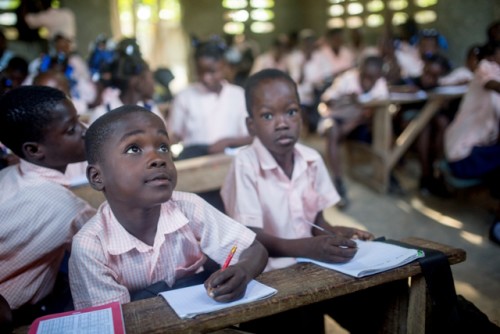 e had a long discussion with our Haitian b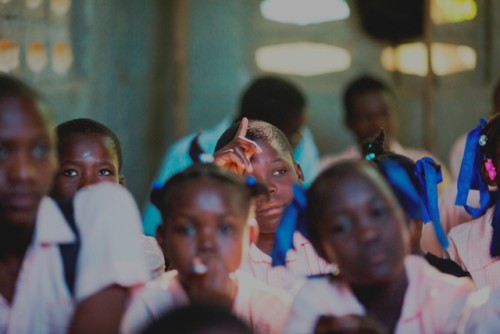 oard on a policy for students who are not successful. The board strongly felt that at the primary level, we should give the children a second chance rather than dismissing them.
Over the year, we will try to help these students with academic support, in the hopes that they will improve their grades. There are many reasons why students fail, and sometimes it is a matter of learning disabilities, stressful living conditions, illnesses, and many times hunger. It saddens me to share with you that the feeding program for primary students initiated last year by UNICEF has been cut. We hope it will be re-instated soon. Food insecurity is a major problem in Haiti and affects the success of our students at all grade levels.
Secondary Program Update (Grades 7 – Philo)      
Our secondary program is now in its 11th year, and this year we will offer scholarships to 136 students. Without scholarships many students cannot afford school at the secondary level, because the tuition grows exponentially with each grade. Parents may be able to afford tuition at the primary level but by the Philo year (13th year required for post-secondary study), the tuition is about $400.00 a year (1/3 or more of the family's annual income). The increase in the tuition contributes to the low percentage of high school graduates in Haiti – only 15%. The state administers 3 exams during the secondary years: an exam at the 10th grade, 12th grade (Rheto), and Philo level. This year we had a 100% success rate at the 10th grade level, but only 73% success rate at the Rheto and Philo level. The students who were unsuccessful at the Rheto and Philo exams are no longer candidates for our university scholarships. They will have the opportunity to apply for a technical school scholarship. The good news is that 11 students passed the Philo exam and are now on the waiting list for a university scholarship. While they wait this year, we are asking each student to take the state examination for entrance in to one of the State Universities in Port-au-Prince, Cap Haitian, or Gonaives. The exam is difficult, but we are contributing to their success by offering them a 6 week preparatory class prior to the exam. If they pass the exam, the tuition is free. The Crosby Fund would cover their living expenses only and this would reduce our university waiting list significantly.
University Program Update                   
This summer we had four more University graduates: Mina Toussaint from UTESA in the science of nursing, Jean Wisguens Inozile from Quisqueya University in environmental studies, Emmanuella Jacob from UNIQUA in business, and Marie Claire Mamotel from Siloe Nursing School in the science of nursing. All are now in the required y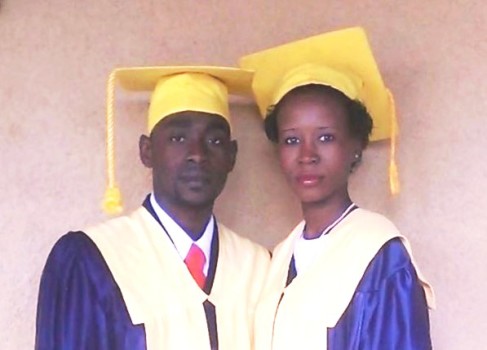 ear-long internship that will complete their bachelor degree study. Congratulations to our students!   We received six new university students: Jude Odne, Nehemie Otelus, Fleurette Gedeon, Ederson Louis Pierre, Genel Geffrard, and Jephte Joseph. We are looking for individuals to sponsor their education. (See the next page for information on sponsoring university students).   To date we have had 19 university graduates: 4 are in internships, 4 are continuing their education, 7 are employed and 4 are searching for employment. 11 students are on the university scholarship waiting list.
Technical Program Update
Last year 21 students benefitted from our Technical School program and 9 graduated this past fall. This makes a total of 20 graduates since 2009, when this program began. 12 out of the 20 are employed and working; our new graduates will be searching for work. 22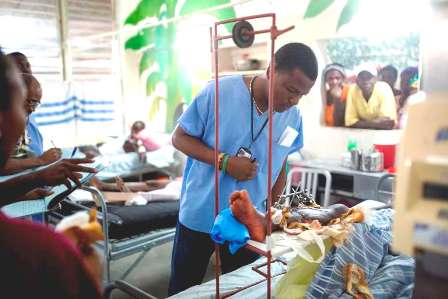 students are receiving scholarships this year. We have a waiting list of 16 students. If you would like to support one of them, that would be very helpful. Areas of study range from mechanics and construction to elementary school teaching and auxiliary nursing and more. A technical scholarship offers students the opportunity to learn practical job skills for future employment.
Verna Cledomin was trained at the Hospital Albert Schweitzer as a physical therapy technician. He works in the hospital with patients recovering from surgery or injury and then continues to make house calls after they return home. To see Verna at work, visit our website www.crosbyfund.org and watch the video posted there.
Student Story: Ducasse Alphonse
Ducasse Alphonse graduated from St. Ignace School of Teaching with a bachelor's degree in the Science of Education. Prior to his graduation, he helped during the summer months tutoring students in mathematics. We realized he was a talented teacher. After his graduation, we hired him as a tutor in mathematics, chemistry and physics. He offers 4 classes a week and has over 30 in each class. We hope to include primary math in his tutoring schedule this year.
Ducasse has not had an easy life. When he and his older brother, Antonio, were ages 10 and 14, they left their mother and lived with a friend of the family. She could not support their education, so they began working to pay for school. At a young age, Ducasse assisted a mason building houses, and Antonio worked long hours in the fields assisting a farmer. Sometimes they missed a school year or two in order to save money for the following year's tuition. Antonio was selected in our first class of 32 students ten years ago. He was in 12th grade. His brother Ducasse entered the program in 2006.
Ducasse and Antonio were two of our brightest students. They were both attending universities when the earthquake shattered the region of Port-au-Prince in 2010. Ducasse at that time was studying electrical engineering at the University Lumiere in Port-au-Prince. He was in an electric circuitry course with 28 others when the building crumble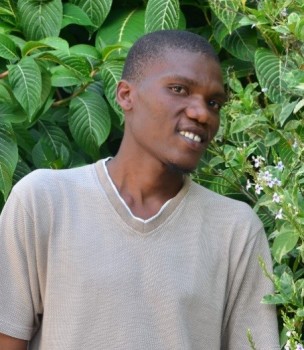 d. A large cement block hit his back, and while he crawled to escape, a wall came down on his legs. Three days he lay on the road with no food or water. Finally when he was losing all hope, someone came to help him. Learning that he was from Deschapelles, he was driven to the Hospital Albert Schweitzer where he spent time recuperating. Luckily, the hospital saved his legs, yet he is still in considerable pain four years later. It was after his return home that he learned that his brother Antonio died in the earthquake, and 26 of the 28 students in his class perished. With the collapse of the University Lumiere, the only university in Haiti to offer electrical engineering, Ducasse had no chance to finish his degree. After his recovery, he decided to go in to the field of teaching, and he entered St. Ignace to start his bachelor's degree from the beginning. He graduated last year and came to work for us as a tutor. He is a remarkable man with courage and great gift for teaching. We are thrilled to have him with us.
News from our Graduates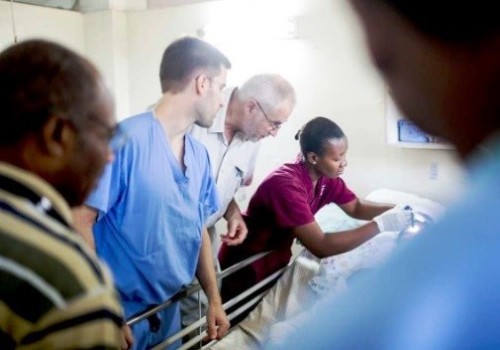 Helene Clervius graduated three years ago from Quisqueya University with a degree in medicine. She finished two years of residency and worked at the Hospital Albert Schweitzer for 6 months in general surgery. This fall she was awarded a scholarship to study neurosurgery in Switzerland at the University Hospital of Vaudois in Lausanne. Her dream is to create a neurological clinic in Haiti by 2020 with a team of 6 doctors specializing in all aspects of neurology and neurosurgery. Currently there are only 4 neurosurgeons and 1 neurologist working in Haiti, a country of 10 million. Delicier Dieuseul, another Crosby graduate in medicine, is studying neuroradiology and hopes to join her team of doctors when she returns.
We recently learned that Thelmy Guerlande has recently been hired as an accountant in the Haitian government for the Department of the Interior. Mendel Mesidor is now working in the marketing department at Natcom, the newest phone carrier. Pierre Hervey, a graduate in computer science, works at Quisqueya University creating student database programs. Each of these students' lives have been transformed by their scholarships. They have profitable careers, are able to assist their family's needs, and they are making a contribution toward Haiti's future.
Sponsoring a Student    
Over the past ten years we have helped 550 students go to school. We have 352 students in our program this year, and the greatest challenge we face is supporting our university scholarships. 37 university scholarships will be offered this year, and we try to find individual sponsorship for each student – donors who are willing to provide full or partial support (tuition only) at the university level. See the chart below that gives the range of university expenses. We have 12 students in need of sponsorship. If you are interested in sponsoring a university student, please contact us, and we would be happy to tell you more about the program and help you select the student, if you wish. We offer our deepest gratitude to all of our generous donors who support our university scholarship program.
If you are interested in making a donation to support a student please make checks payable to Crosby Fund for Haitian Education and send it to 19 Binney Road, Old Lyme, Connecticut 06371. You may also make a gift through our website www.crosbyfund.org through PayPal®. The Crosby Fund for Haitian Education is a 501 (c) 3 non-profit organization. All gifts are fully tax-deductible and 100% of your gift goes directly to Haiti in support of our programs.
Annual University Student Expenses
Tuition and Fees
$1000-$1850
Books
$500
Housing
$750-$1000
Food
$900 – $1500
($3 to $5 per day for 10 months)
Transportation
$250
Total Range
$3400 – $5000
Technical Student Expenses
Tuition and Fees
$400- 500

---
Annual Secondary Student Expenses
Tuition and Fees
$200-$300
Books
$65
Uniforms
$50
Total Range
$315 -415
Primary Student Expenses
Tuition and Fees
$75 -$100
Uniforms
$35
Books
$25
Total Range
$135-160
 

Annual Budget
Our annual budget this year is $260,000.  There are no paid salaries in the United States, and expenditures in the U.S. represent only 3% of the budget and are funded privately. All contributions are fully tax deductible to the extent provided by law.