Newsletter Fall-Winter 2016
The Crosby Fund for Haitian Education
19 Binney Road, Old Lyme, CT06371
www.CrosbyFund.org – 1-860-434-8054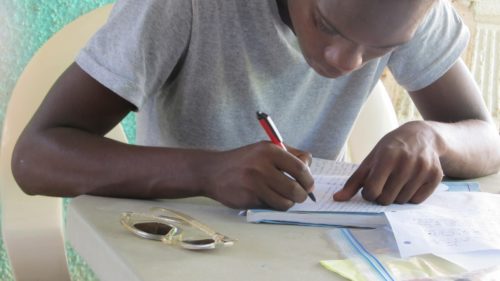 " because education in Haïti is not free "
 The Education Center                                                                                           Fall/Winter 2016-17
The walls are up, the roof trusses are in place, and the roof is being installed as we write.  We are well on our way to opening the Center in January 2017.  Many thanks to all of you who have supported this building effort.  The Center will be the permanent home for our work in Haiti. John Chew, our general contractor, is building the Center to earthquake and hurricane standards using all Haitian laborers and Haitian materials. This modern facility will house the offices for our staff, provide 3 large classrooms for tutoring and teacher training seminars, literacy classes for adults and children, and many other special programs, as well as a computer lab to help our students in the fields of math and languages. It will provide adequate storage for academic books and materials needed for our program. The guest house to accompany the Center will begin construction in January, and provide a place for educators and volunteers to stay while they work at the Center. Building a permanent home for our organization with an Education Center and a guest house establishes the fact that we are committed to educational opportunities and improvement in the Artibonite Valley of Haïti.  It is a sign of hope in the community that we are planting roots for the future.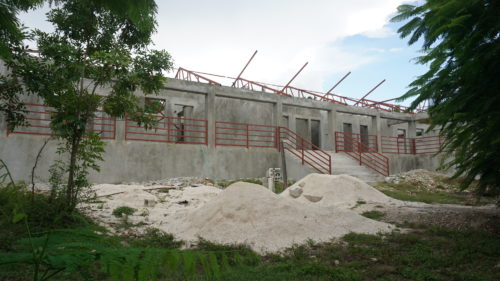 The Education Center
Engaging Youth in our Program
In April we offered the opportunity for 12 high school students to travel with us to engage with Haitian youth in a transformative and mutually beneficial experience.  Over 40 young people have traveled to Haïti with us over the past 3 years to offer programs for Haitian youth of all ages.  This program offers a great way for teenagers to become engaged in the problems of the world.  We will offer another opportunity in April 2017.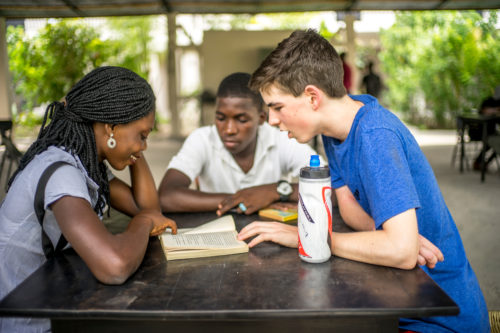 Finn McGannon tutors in English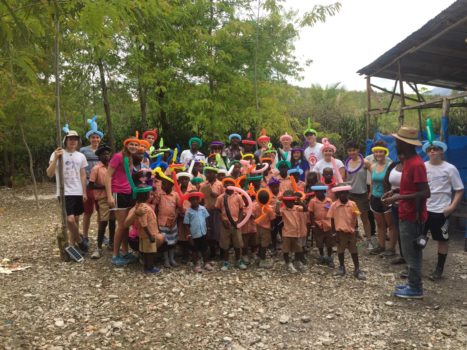 Youth Group at a mountain school near DesArmes
Laptops, Shoes, and Treadle Sewing  Machines !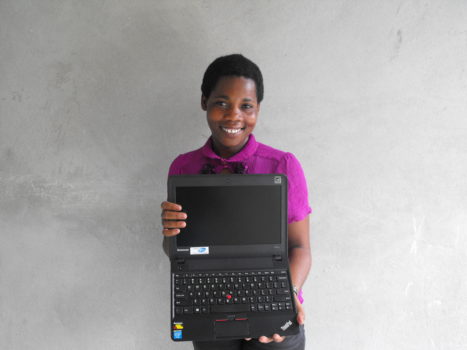 Juserelle Charles receives a laptop from Pfizer, Inc.     
Laptops                                 
There  are not adequate computer labs in Haitian universities to afford access to all students.  Therefore, laptops are much needed in all the bachelor degree programs.  Without them our students struggle to prepare papers and complete assignments, which puts them at a great disadvantage.  Realizing that our students cannot afford to buy one, we began nine years ago to add computers to our budget – and we purchased about 10-15 a year. Juliann Martel, our new board member, is also a Pfizer employee.  Thanks to Julie's initiative, we were thrilled to receive 15 gently used laptops from Pfizer.  This gift greatly helped our annual budget, and we have 18 more laptops coming for this year.  Thank you Pfizer!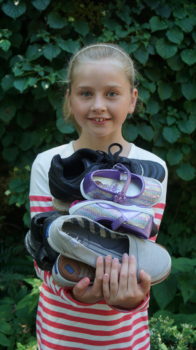 Shoes: We provide primary and secondary students with full tuition, uniforms, and books, yet some families have a difficult time providing adequate shoes for their children to go to school.  All children must wear closed toe shoes – no flip-flops are allowed.  We had a shoe drive over the summer to collect shoes for our students of all ages. We began with shoes not sold at the First Congregational Church's White Elephant Sale, and after that congregants continued to donate gently used and new shoes of all sizes.
Ten -year old Abby Reardon from Essex, CT heard about how children cannot go to school without shoes, and she started her own shoe drive.  She called her friends, asked her parents' friends and went to neighbors' houses.   She collected over 100 pairs of shoes and delivered them (with her mother's help) to our house.  Many thanks, Abby and all of shoe donors!
Treadle Machines:  We have had several young women in our technical school program who have graduated from seamstress school, but who cannot practice their new trade without a sewing machine.   They came to us and asked if we could help.  When we arrived home, we put the word out that treadle machines were needed for our program.  Within a month three machines were donated.  In April these machines arrived in Haiti. The three young women were invited to our office not knowing there were machines waiting for them. Antoine Livana was the first to arrive. She saw the three machines and her face lit up, yet she did not make an assumption that one was hers until we asked her to select one, and that is when the tears began to flow.  It was a joyous moment!  We now have 4 more treadle machines donated.  Many thanks to all of those who have donated these beautiful machines!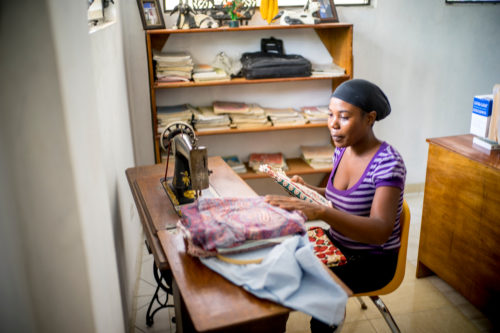 Antoine Livana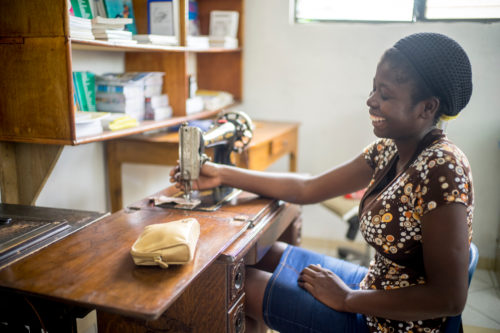 Merline Joseph
In Memoriam
In May, we lost one of our staff members, John Edner Raphaël, to a horrific car accident.  Edner was a graduate of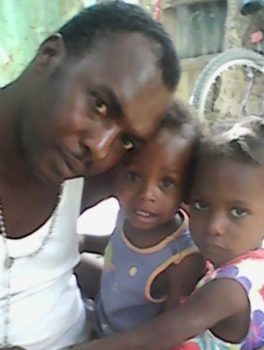 our technical program and had been a member of our staff for 8 years.  His title was Primary Program Assistant, but he did so much more. Edner was the one to pick up every task that wasn't in someone else's job description, and we, now, after his death fully realize all the little tasks he did on a daily basis that were unnoticed.  He was a kind and thoughtful young man, who left behind a wife and three children.  We miss him greatly.
With the loss of Edner and the growth of our program, we redistributed staff responsibilities and hired two new members to our staff: Thelmy Guerlande and Robens Occéan, both graduates of our university program.  Thelmy Guerlande graduated four years ago from Leconte University with a bachelor's degree in accounting, and she will keep our financial records in Haiti. Thelmy is married with two beautiful daughters.  Robens Occean graduated 3 years ago from Notre Dame University with a bachelor's degree in Business Management. He will work on a detailed student database program, enabling us to keep better records of our students and graduates. This database program was created for us by Pierre Hervey, a 2012 graduate, who is a computer programmer at Quisqueya University in Port-au-Prince.  Robens will also help in the new computer lab in the Education Center.  Welcome Thelmy and Robens.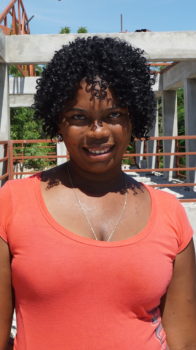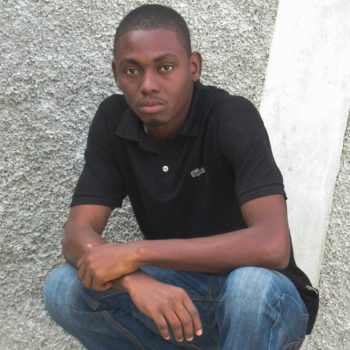 Program Updates
We provide four scholarship programs for students living in the Artibonite Valley in Haïti:  primary (K-6), secondary (7-Philo), Technical (post-secondary 2 year program) and university (bachelor degree program).  Together there are 386 students in our program.  Scholarships provide full tuition, books, uniforms and exam fees for primary and secondary.  No money is released to students (except for the living expense stipend for our university students). There are 65 different primary and secondary schools where our students attend wthin a 25-mile region in the Artibonite Valley, which has a total population of 1.7 million people.  Each student goes to a school within walking distance of their house. Tuition fees are negotiated and contracts are made with each school. Payments to schools are made directly by our staff.  Uniforms are made by local tailors and seamstresses, offering much needed employment to the region.  We employ 9 wonderful and hard-working Haitians, who devote themselves to the efficient management of our growing organization.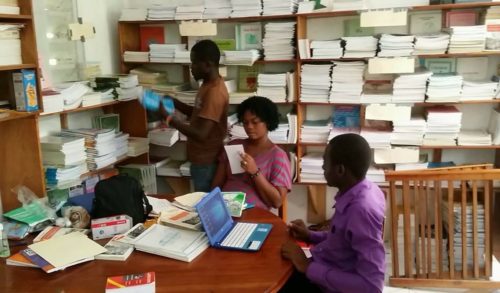 Thelmy and Robens sort through over 2400 school books
Primary Program (Grades 1-6)
Five years ago the primary program began with a generous grant from a compassionate donor. Today it is thriving with 153 students enrolled for this year.  In June, 20 sixth graders advanced to seventh grade and are eligible for our secondary program.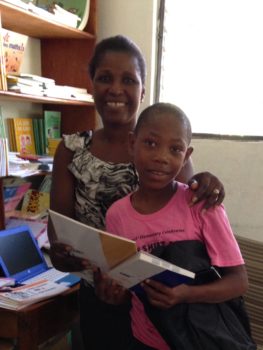 We received 33 new students this year. We try to select male and female equally and preference is made for those with the most financial need.  Problems with hunger and dire living conditions make success hard for some students, yet we have a 90% success rate. Kettelie Petit Loute Jules is the manager of the Primary Program.  She and Thelmy Guerlande visit parents of children who are struggling in school to see what cause there may be and if we can assist in some way with tutoring support.
Kettelie Petite Loute Jules
Secondary Program (Grades 7-Philo)
Beginning our 13th year, the secondary program has 157 students attending 48 different schools in the region.  50% of children in Haiti attend primary school, but that number quickly declines in secondary school as tuition costs take a sharp increase.  On an average in Haiti, only 15% of Haitian youth graduate from high school. This year we had a 96% success rate and these students will advance to the next grade.  30 students completed high school with their Philo year (a 13th college preparatory year).  All of them will attend post-secondary study – 12 at the bachelor degree level, and 18 at the technical school level. 24 of these will wait a year before they begin their post-secondary study.  During this period of waiting, we provide an extensive English class for them, so that they spend their time productively.  There may be volunteering possibilities for these students once our Center is completed.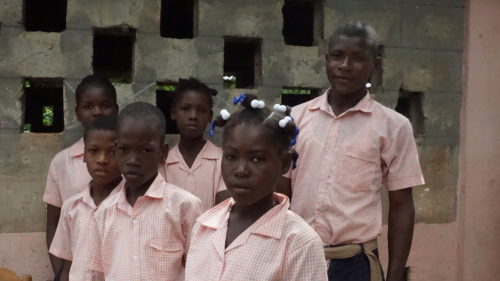 Scholarship students at Institution Mixte R. Dormil School in Les Forges
Technical School Program
This year we created two programs within the technical school program.  The students who pass the Philo exam with the highest grades are offered the opportunity to enter the university program.  Those students who pass the Philo exam at a lower grade, are offered higher level technical programs in Port-au-Prince with a living stipend.  Students who do not pass the Philo exam will attend local technical programs close to their homes with a stipend for travel.  The technical program covers a wide range of learning opportunities from nursing and laboratory assistants, to telecommunications, industrial mechanics, plumbing, carpentry and much more.  This year we will have 37 technical students in the program.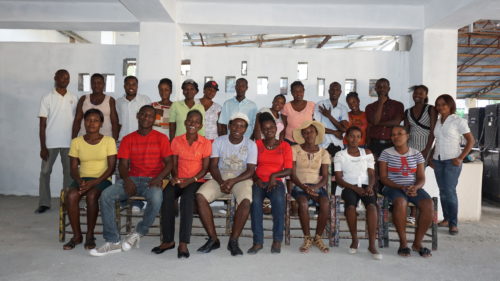 Some of our technical students in 2016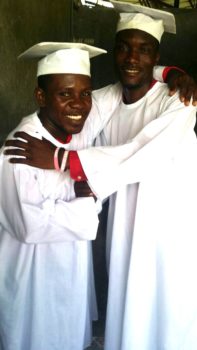 Wardens Valbrun and Vernet Sidort
graduate from St. Roberts Technical School
University Program
The university program continues to be our greatest challenge.  Tuition and living expenses range between $2,400.00 to $3,500 per student per year and most degrees are 5 years (a degree in medicine takes 7 years).  Almost all university graduates are required to fulfill a one-year internship in order to be licensed to practice and to be employed.  Most of the internships are $1,000 a year plus a living stipend.  Unlike the liberal arts education system in the United States, Haitian students must select a major prior to enrolling in the university.  More and more universities are requiring the student to pass an entrance exam prior to acceptance.  Karen Stigliano, a volunteer from Old Saybrook, CT, offers a seminar for students that helps them better understand their aptitudes and interests and places each student in a career category (such as finance, health service, education etc.).  She then outlines different career paths within each category.  This information is very helpful to students as they select fields of study and determine the best university in their field.  This year we have 34 university students and 5 graduates in their internship year.
University Graduates
James Kerby Estime, known to everyone as "Kerby," has just completed a six-week program in Belgium at the CHU Brugmann Hospital for medical practice in the ICU and Emergency Care Unit.  He was joined in this teaching program with 40 other international students.  This wonderful and challenging experience was awarded to Kerby because he is graduating at the top of his class from the University of Notre Dame in Port-au-Prince in the field of medicine.  He will begin his internship in October in Cap Haitian at Hopital Universitaire Justinien, one of the 8 teaching hospitals in Haiti.  Kerby will graduate next year after this internship.
Kerby was born in Liancourt, a small town in the Artibonite Valley.  He entered our program in 2006 as a junior in high school.  We were surprised with his exceptional grades and thrilled to have him in our program.  His mother, Yvrose, a seamstress strongly encouraged him to study hard, in fact that is about all he was allowed to do. "No football (soccer), no basketball, and no playing cards.  It was just the books for me," he declares.  His hard work has paid off.
Kerby started a small clinic in a church in Liancourt on Saturday mornings to see patients, who could not afford medical care. If they were seriously ill, he tried to help them go to the hospital.  Many times patients had minor problems, and he was able to assist them and give them donated medicine.  He hopes someday to open a small hospital in Liancourt and serve the people in the area where he was raised. We are extremely proud of this young man as he begins his medical internship focusing on general surgery.
Kerby is not our only medical                     student to be entering a medical internship, Moners Claude has finished his studies at the University Lumiers, and this fall begins his internship at the Hôpital Immaculée Conception Cayes in Les Cayes, Haiti.  He will focus on obstetrics and gynecology.
Both Kerby and Moners have exceled in school and were given the opportunity to attend medical seminars in the U.S.  Traveling to the U.S. was a quite an experience for both of them, as neither student had ever been outside of Haiti.  Kerby attended a seminar on pharmacology in Boston and Moners a seminar on radiology in Chicago in December. The Crosby Fund paid for each of their airplane fares.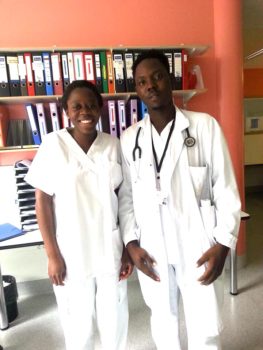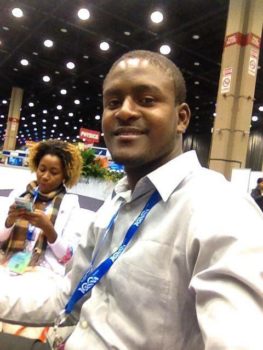 Kerby and Moners are joined by 3 other students who have completed their university studies and are entering internships: Merceline Chalumeau has graduated from Jeanne Mance du Canada Nursing School, Guerrens Aristide has graduated from the Universite Episcopale d'Haïti in the field of agronomy, and Schnaider Dorzema has graduated from INUKA in the field of electrical engineering. Congratulations to our university graduates!
James Kerby Estime (left) in Brussels – Moners Claude (right) in Chicago
Seven students have completed their internships and are now searching for jobs: Richard Norcius, Elie St. Louis, Ronald Guistinvil, Manise Aimable, Carl Frederich Joseph, Malachy Frazier, and Jean Noel Macius.  We have hired Stanley Joseph, a business professional, who has many connections in the job market in Haiti.  He is working with these students to help them find employment.  We wish them the best of luck!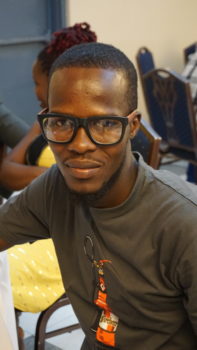 Sponsoring a Student
We are very grateful for all donors who sponsor a student's education at any level.   Without this generous support, we would not be able to offer scholarships to so many                students.  Sponsors of university and technical students receive the name, picture and personal information about their sponsored student. We have 13 university students and 12 technical students in need of sponsorship. (Please see the chart below). If you are interested in sponsoring a student at the full or partial level (tuition only) please contact us, and we would be happy to tell you more about the program and help you select a student.
Schnaider Dorzema
Annual University Student Expenses

Tuition and Fees

$1,000-$2100

Living Stipend per Student

$1,400

Total Range

$2,400 to $3,500

Technical Student Expenses

Tuition and Fees

$400 to $900

Annual Secondary Student Expenses

Tuition and Fees

$220-$350

Books & Uniforms

$120

Total Range

$340-$470

Primary Student Expenses

Tuition and Fees

$75-$175

Uniforms and Books

$70

Total Range

$145-$245
Annual Operating Budget
Our annual operating budget this year is $329,450.  The following pie charts show the source of revenue and expenses.  The salaries represent our Haitian employees.  There are no paid salaries in the United States, and expenditures in the U.S. including fund-raising represent 6% of our budget and are privately funded.  100% of your donation goes directly to work in Haiti and supports the scholarship program directly.  All contributions are fully tax-deductible to fullest extent provided by law.

Mission Statement
The mission of The Crosby Fund for Haitian Education is to provide scholarships for primary, secondary, and post-secondary study to academically gifted Haitian students living in the Artibonite Valley, who without this support would be unable to attend school. Our aim is to prepare students for professional careers in Haïti.
Board of Trustees  (U.S.)

Amy P. Agles, Secretary
Dale H. Bernardoni
Gerard F. Cattie, Jr.
Frederick T. Crosby, President
The Rev. Rebecca T. Crosby, Vice President
The Rev. David W. Good
Juliann K. Martel
Thomas E. Sherer, Jr., Treasurer
Board of Advisors  (Haiti)
Luquece Belizaire, Deschapelles
Marco Desir, Petite Riviere de l'Artibonite
Kesner Dutreuil, Deschapelles
Marie LaLa Etiverne Ceus, La Chapelle
John Junior Mendel Mesidor, Verrettes & Liancourt
Staff                                                  
Franck Cidort, Facilities Manager                                  
Rebecca Crosby, Executive Director
Louines Dominique, Caretaker
Thelmy Guerlande Bookkeeping and Accounting
Vaudy Jean-Baptiste, Program Director
Louis Jeune Jerome, Security Guard & Grounds
Kettelie Petit-Loute Jules, Primary Program Manager
Robens Occean, Database Technician & Office Assistant
Fednor Sidort, Program Administrator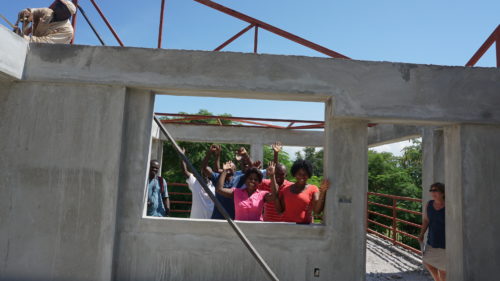 The staff is very excited about their future work place!
 The Crosby Fund for Haitian Education was founded in 2004 by Rebecca T. and Frederick T. Crosby.  The organization is registered in Connecticut, and is a 501 (c) 3 not-for-profit organization.  All gifts are tax-deductible to the fullest extent provided by law. Gifts may be sent to: 19 Binney Road, Old Lyme, CT 06371.  For more information, see our website at www.crosbyfund.org or call 1-860-434-8054.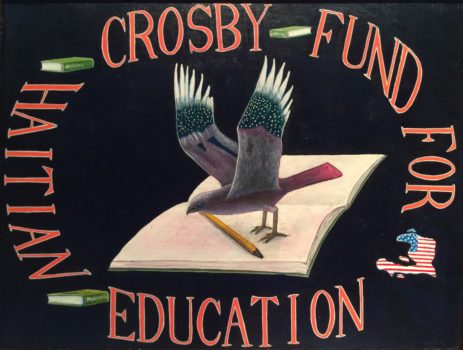 The Crosby Fund Logo painted by Haitian painter, Wadson Dorsainvil